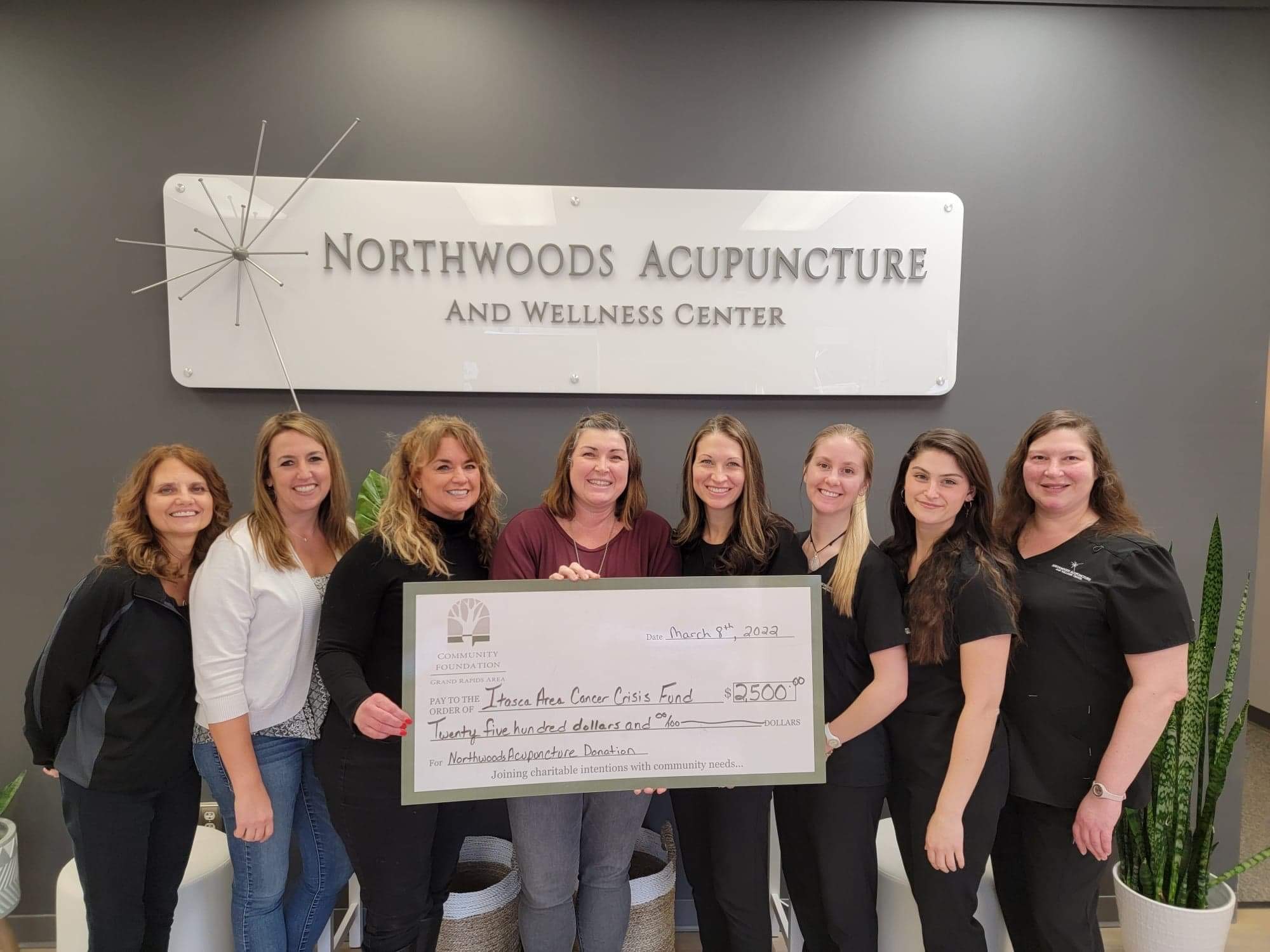 Teamwork makes the dream work! Right? Local organizations worked together to create a generous donation recently by highlighting the new location and services of Northwoods Acupuncture and its Open House, while at the same time raising funds for the Itasca Area Cancer Crisis Fund (IACCF).  Since the IACCF began in 2010, it has paid out $412,857 in grants to 383 individuals or families fighting cancer!
Many of us remember the Bash event held every summer at Portage Park in Cohasset to keep funds flowing into the cancer fund (IACCF) for local area cancer recipients. This well-attended event had fun for all ages through carnival-like games, a talent show, corn hole games, bouncy houses, fair foods, softball games, a 5k run, pickle ball, bands and fireworks. After eight successful years of that event, the volunteer committee felt it was time to try new ways to keep donations coming into the fund.
"It has been rewarding to see how the community has stepped up to the challenge of keeping this local cancer fund staying afloat during the recent pandemic by many different organizations, businesses, and individuals finding creative avenues to help keep the donations coming in," says Tina Kane of the Bash/IACCF committee.
One such event recently took place through the relocation and open house of Northwoods Acupuncture and Wellness Center.
An increasing number of people are seeking acupuncture for relief of symptoms related to cancer treatment such as nausea, pain, anxiety, and neuropathy. Since its inception in 2009, Northwoods Acupuncture has helped thousands of patients deal with these symptoms. They also treat caregivers, supporting them as well, during the cancer journey.
"Each patient's journey is unique. We are often the last resort with the best result," said the staff at Northwoods Acupuncture. "Every day we witness the hardship cancer causes families mentally, physically, and financially, so our team decided to create an open house fundraiser to support patients and their caregivers during these difficult times."
They raised $1,250 and matched all proceeds to donate a total of $2,500 to the Itasca Area Cancer Crisis Fund.
"Our team's goal in donating all matched proceeds was to give back to this community that is great at watching out for one another. The Bash Committee has done a wonderful job with this. We wanted to highlight that the Bash Committee and Itasca Area Cancer Crisis Fund are here to help ease the hardship of cancer! We're thankful to have been able to work with them," said Clinic Director and Owner Amy Dolan. Northwoods Acupuncture and Wellness Center's mission is to transform lives by providing clinically proven solutions to chronic conditions, chronic pain, and fertility.
If you are struggling with an unresolved diagnosis, you can reach Northwoods Acupuncture at 218-398-0550 or amy@northwoodsacu.com, or through their Facebook and Instagram pages.
The Itasca Area Cancer Crisis Fund and the Itasca Area Cancer Crisis Endowment Fund are managed by the Grand Rapids Area Community Foundation. If you or a family member are in need of cancer crisis funding, you can apply online through the Grand Rapids Area Community Foundation website, www.gracf.org.  Click on Itasca Area Cancer Crisis Fund on the Apply for a Grant page and fill out a simple application.
If you would like to donate to the IACCF funds, you can drop off or send a check to Grand Rapids Area Community Foundation, 350 NW 1st Avenue, Suite E, Grand Rapids, MN 55744, or donate online at www.gracf.org, Donate Now, and select Itasca Area Cancer Crisis Fund or Itasca Area Cancer Crisis Endowment.
The Grand Rapids Area Community Foundation has been connecting donors' charitable intentions to community needs for over 25 years to make our Greater Itasca Area – and the world – a better place to work and live.