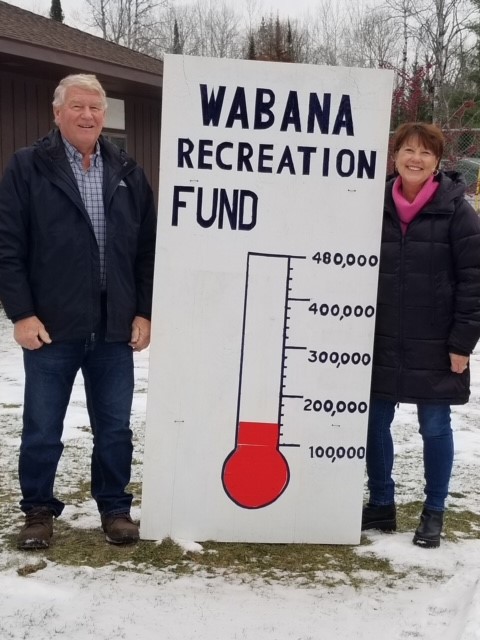 A Wabana Township community group is working on a renovation project to improve the Wabana Community Recreation Complex, their local recreational asset.  They would like to raise money to upgrade many items at the recreation area such as the hockey rink, playground areas, and tennis court, as well as relocating the basketball hoops, adding two pickleball courts, a kiddy ice rink and an ADA-compliant, paved walkway to the pavilion.
Jack and Donna Hartung, committee fundraising chairs, are standing in front of the growth thermometer showing that the committee has raised over $142,000 to date!  Fundraising monies for this project are through community support and grants.  Please think about this project in your year-end giving.
The Wabana Community Recreation Complex Project has a fund at the Grand Rapids Area Community Foundation. You can donate online at www.gracf.org/donate and search for Wabana Community Fund, or you can send or drop off a check to the Grand Rapids Area Community Foundation, 350 NW 1st Avenue, Suite E, Grand Rapids, MN 55744.  If you would like more information on the project, please contact Kim Oja at mrs.o@msn.com or 218-327-2350.