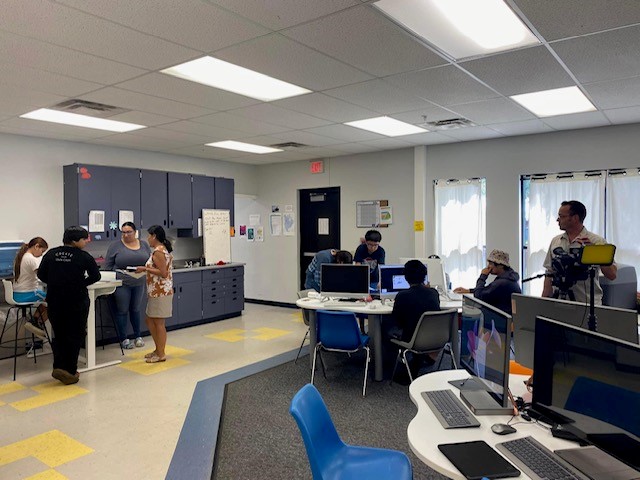 SmartNorth, a Minnesota based, 501 C(3) organization with a mission to promote digital equity and improve the quality of life in the state, has been working since 2020 to establish technology hubs in Deer River and Minneapolis.  The tech hubs were completed in both locations in November of 2022.  The Grand Rapids Area Community Foundation awarded a grant to the Deer River Tech Hub in their 2022 Annual Grant Cycle.
The two Minnesota tech hubs have been operating for almost a year with new equipment and technology being added throughout that time.  SmartNorth works in partnership with public-private-academic-civic-community leaders and organizations to drive digital equity and transform livability in Minnesota. SmartNorth is making plans to open a Grand Rapids tech hub in the near future.
The Deer River Tech Hub is a place designed for youth, ages 12-20+, to gather after school and provide a space to explore technology and innovation and also to connect with industry leaders. Students can learn new skills related to graphic design, droning, music videos, editing, marketing and more.  They have access to computers and tools, such as 21st century computers, 3D printers, and music studio equipment, to create, innovate and learn, allowing them to explore the digital world and the future. The Deer River Tech Hub is located in the Goodall Resource Center in Essentia-Health Deer River and has two classrooms.  The tech hub has a Tech Hub Coordinator and three Assistant Coordinators.  It is open 3pm-8pm during the school year and was open 12pm-6pm last summer.
Tristen Aho, Deer River Tech Hub Coordinator, says, "In a series of exciting achievements, our organization has embarked on ambitious ventures that have left an indelible mark on the community. Collaborating with youth drug and alcohol prevention group,  STEP Up,  and renowned artist, Thomas X, we created a sensational song and music video, debuting it at Native American Heritage night for the Twins game. Additionally, we hosted two unforgettable concerts in Deer River. Another one of our groundbreaking projects involved developing a culturally rich calendar in partnership with youth from the clubhouse network in Arizona, featuring translations of months in the O'odham and Ojibwe languages, enhancing our spirit of collaboration. For our youth who participated, we organized an unforgettable three-day trip to the Twin Cities, where they explored innovative spaces such as REM5 VR Studios, the Mall of America, Wisdom Gaming, George Floyd Square, and savored a meal crafted by a celebrity chef at the South Minneapolis Tech Hub. We have also dedicated our efforts to support local businesses by recording interviews and promotional footage, ensuring the prosperity of our vibrant community."
Anyone interested in learning more about the Deer River Tech Hub can email tristen@smartnorth.org.  You can also connect with the Deer River Tech Hub on Facebook. The Grand Rapids Area Community Foundation has been connecting donors' charitable intentions to community needs for almost 30 years to make our Greater Itasca Area a better place to live.