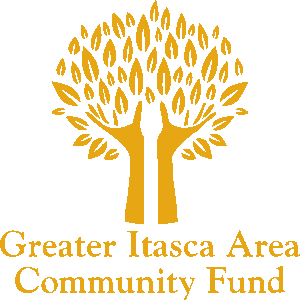 Advisory Committee Members:
Gwynne Bobich
Kelly Hain
B.J. Hansen
Bob Holycross
Mary Ives
Karen Karls
Marcia Miller
Wendy Roy
Bud Schneider
Our community is a special place with hard-working families who support each other.  We value the special beauty of our lakes, rivers, and forests, and many in our area make their living from them.  This is "home" for us. In the past, the Community Fund has distributed grants that:
Significantly benefit the community for the resources invested

Are creative, innovative and address community need

Eliminate duplication of services and encourage cooperation

Increase volunteer involvement and commitment to community needs

Leverage other resources
The interest earned from the investment of the Greater Itasca Area Community Fund will be available for future needs in Bigfork, Blackduck, Cohasset, Grand Rapids, Northome, Remer, Warba and all other townships and cities within District 318. 
Our Greater Itasca Area Community Fund Advisory Committee members are intent on creating a legacy for the Great Itasca Area. We hope you will consider a gift to support YOUR Greater Itasca Area Community Fund. Our children and their grandchildren will benefit from your generosity for years to come. Other programs that have received grants from the Greater Itasca Area Community Fund include:  Great Minds Learning Center, Itasca County Family YMCA, Project Care Free Clinic, GRACE House of Itasca County, Boys and Girls Clubs of Grand Rapids and Greenway, Reif Arts Council and others.
If you are a nonprofit or community organization in the Greater Itasca Area, you can apply for a grant from the Greater Itasca Area Community Fund by clicking the Apply Now button below between July 1 and August 1.
We are happy to answer your questions about the benefits of a community endowment. Thank you for your gift to our Community!