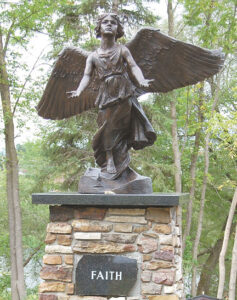 Check back often, and watch our Facebook page for grant applications to open.
Grant Portal
Applying for help or a grant from the Community Foundation is easy! All grant applications and monitoring reports are done online through our Grant Portal or Scholarship Portal. Remember our annual grant cycle is July 15 – August 15.
You may apply for the following funds at any time of the year.
Angel of Hope Fund
The Angel of Hope Memorial Park in Grand Rapids, Minnesota, is part of a national and international network of memorial parks that provide a place of comfort and hope to parents and family members who grieve the loss of a child. There are over one hundred such parks in existence. The park is open to the public. An Angel of Hope Statue is located in the Angel of Hope Memorial Park, which is located on the south bank of the Mississippi River at SE 1st Street and 2nd Ave.  At the base of the statue are granite pavers inscribed in memory of children who have died.   If you would like to order a paver, please click on the Apply Now button below, create an account and fill out the order form. 
Donations in support of the Angel of Hope Park can be made by clicking on the Donate Now button below.
Blandin Employees for Life Fund
The Blandin Employees for Life Team has established a local cancer fund at the Grand Rapids Area Community Foundation. Proceeds from Blandin Employees For Life Team remain local and available to area citizens needing short term help with cancer expenses.
Deer River Crisis Fund
The Herreid Deer River Fund is intended to help individuals or families in the Deer River (56636) area experiencing a crisis of some kind. Crisis funding could be for shelter, utilities, or transportation.
.
Itasca Area Cancer Crisis Fund
This fund is designed to provide small crisis grants to families and individuals dealing with cancer in the Greater Itasca Area.
Itasca County Sharing Fund
The Sharing Fund can only be accessed by a human services or other nonprofit organization.  If you are in need of help, contact your caseworker, pastor or First Call 211.  Click below to go to First Call 211's website.
Veteran's Support Fund
Resources are available for people who have served in the Armed Forces.  If you are a Veteran or have served in the military in any way, please contact the Itasca County Veterans' Services Office at (218) 327-2858 or click below to visit their website.  If you would like to donate to the Veterans Support Fund, click the Donate Now button below.