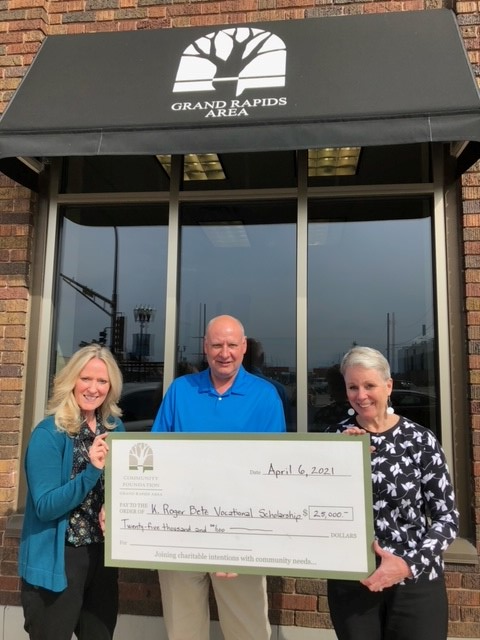 Roger Betz was an educator who wanted to increase high school students' interest in the trades. He was instrumental in creating the layout at the Greenway High School for shop classes, started a carpentry program in Greenway, taught in Greenway for 23 years and now he and his family have established a scholarship fund at the Grand Rapids Area Community Foundation to help Greenway students pursue two-year vocational degrees. He wanted both boys and girls to pursue trade vocations and believed those careers would be rewarding for students.
Roger graduated from Grand Rapids High School in 1949 and then enlisted in the United States Marine Corps. He served at Camp Pendleton in California during the Korean War Campaign, and while in California met a finishing carpenter who took him under his wing and gave Roger an apprenticeship. On his time off, Roger would leave base and would help build homes with his mentor. And not just any homes, but $4-6 million homes in the San Fernando Valley. After his service with the Marine Corps was complete, he continued to serve with the Reserves for 12 years at the Grand Rapids Armory. He attended Dunwoody Industrial Vocational School in Minneapolis and received his degree in drafting and carpentry. He moved back to the Grand Rapids area and worked for Stan Helmer Construction until 1959. Roger wanted to expand his construction knowledge and teach others, so he started college at Bemidji State University and received his teaching degree. His first teaching job was at Osseo High School for 3 years, and after persuasion from his wife, Arline, moved back to northern Minnesota, where he began teaching at the Greenway High School in 1965.
At Greenway, Roger's vision of helping youth see the potential in the trades really started to take off. He helped the high school design the new shop class layout. There was a wood shop, metal shop and machine shop. He taught fiberglass, woodworking and drafting. He also started a carpentry program where the students would build garages for residents in the Coleraine-Bovey area. In his tenure, senior carpentry classes constructed 20+ garages in the Greenway area, and his students received direct, hands-on carpentry experience.
Roger also used his skills to help out the Greenway Boys High School hockey team during the late 1960s (they were the Minnesota State High School Hockey Champions in 1967 and 1968). He actually made fiberglass goalie masks for the Greenway goalies during that time. He got calls from other schools to make these fiberglass masks, but he would only make the masks for Greenway.
Roger passed away on February 4, 2021, at the age of 89, at which time his family established a scholarship at the Grand Rapids Area Community Foundation called the K. Roger Betz Vocational School Scholarship. This scholarship will be awarded to eligible Greenway High School students who will be pursuing a two-year vocational degree. Roger was an advocate for students who wanted careers in the trades and, in his lifetime, guided many students towards those degrees. Now, through his scholarship, he is still advocating for students and guiding them to pursue vocational and industrial arts teaching degrees. Roger was a true teacher, mentor, and supporter of students, and his legacy will continue through this scholarship.
For more information regarding the K. Roger Betz Vocational School Scholarship, please contact the Grand Rapids Area Community Foundation at 218-999-9100. The Grand Rapids Area Community Foundation has been connecting donors' charitable intentions to community needs for over 25 years to make our Greater Itasca Area – and the world – a better place to work and live.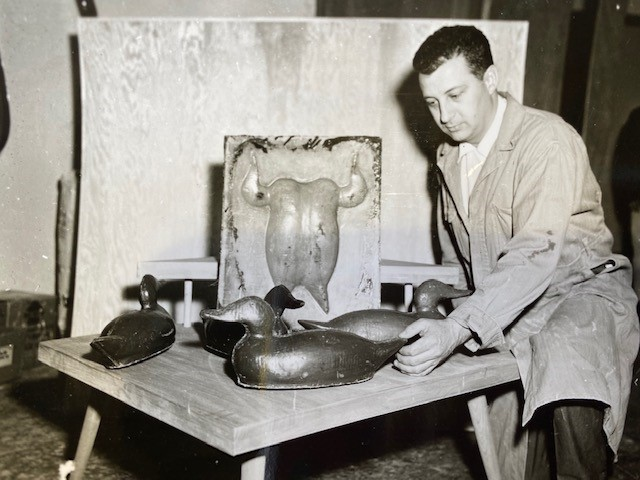 Roger Betz's fiberglass class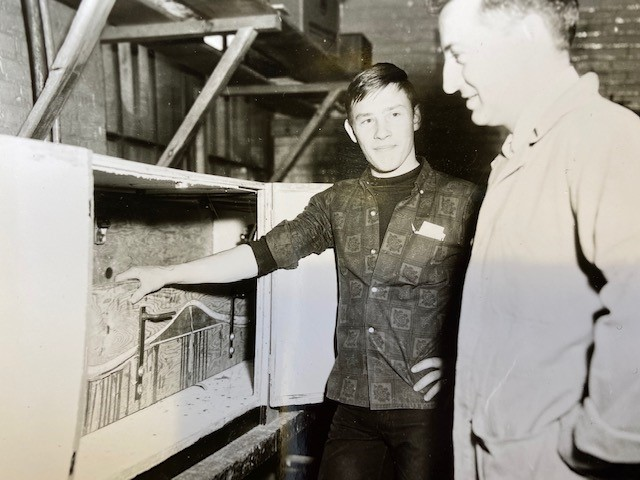 Roger's woodworking class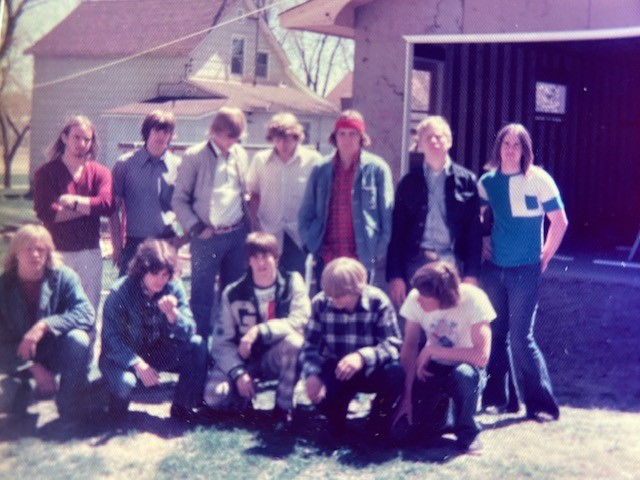 Roger's carpentry class with a garage they built