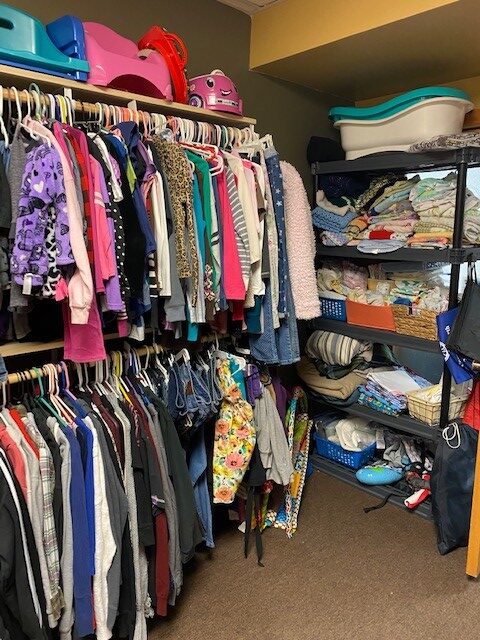 Foster Love Closet has been quietly operating in Grand Rapids, for a few years, helping families find needed items for children of all ages such as baby gear, baby food, diapers, clothes, toys and books – all free of charge. Community member, Karen Tinquist, started Foster Love Closet to fill a gap she saw in the community. She volunteers her time for this project but does have additional help from family and friends.
Karen started Foster Love Closet to help foster children and kinship and adoptive families get a head start. When the pandemic started, however, she and her husband decided to open it to the public because there was a real need in the community for something like this.  Karen says, "I love helping people and knowing that there is a place they can go to get what they need. I love seeing the smiles on the kids' faces when they get to pick out their clothes, toys, and books. People ask me all the time why I do this and it's because I love helping people."  She went on to say, "If it wasn't for the heart of our community, none of this would be possible.  A big thank you to them!" Foster Love Closet is located at 204 NW 1st Avenue, Suite 2 in Grand Rapids, Minnesota. They are open 9:30am to 3:00pm on Thursdays.
You can help children and families by donating items for children to Foster Love Closet.  Please call Karen Tinquist at 218-244-2308 if you have items to donate.  You can also donate to the Foster Love Closet Fund at the Grand Rapids Area Community Foundation.  Donate online at www.gracf.org/donate and search for Foster Love Closet or send your donation to the Grand Rapids Area Community Foundation, 350 NW 1st Avenue, Suite E, Grand Rapids, MN 55744.  The Grand Rapids Area Community Foundation has been connecting donors' charitable intentions to community needs for over 25 years to make our Greater Itasca Area a better place to live. For more information, visit our website at www.gracf.org or schedule a visit by calling (218) 999-9100.