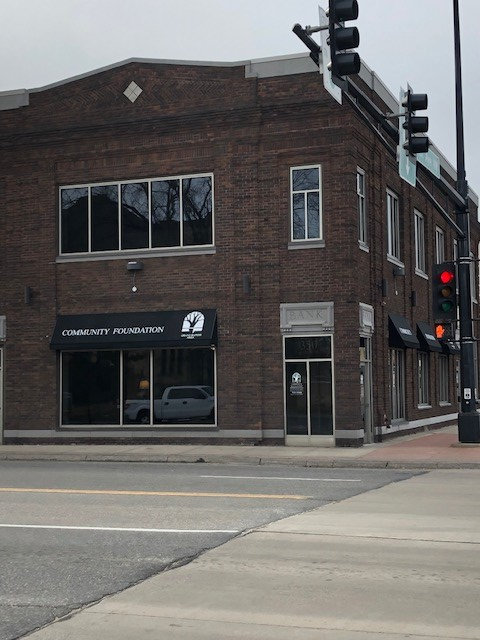 Lilah Crowe, of the Itasca County Historical Society, says that the top question she gets at the Historical Society is, "What is the building in Grand Rapids that just says "Bank" on it?" "Bank" is the word etched into the side of the two-story brick building located at 350 NW 1st Avenue in Grand Rapids and occupied by the Grand Rapids Area Community Foundation and other businesses. This is one of the historical buildings in Grand Rapids and people often wonder about its history. Recently, the Grand Rapids Area Community Foundation updated the awnings outside of their offices on the first floor.
This building was originally built in 1930 by the Aiton Family and housed the George B. Aiton Bank. Unfortunately, the bank did not survive the depression and it closed in 1933. The building has housed many businesses since that time. There was a fire in the building around 2007 and the building had to be rehabilitated. The Grand Rapids Area Community Foundation moved into the first floor of this building soon after the renovation.
For the history buffs out there, this summer there will be an Art History Walk in Grand Rapids and there will be signs throughout Grand Rapids giving details about historic buildings and local art. Watch for more details coming about the Art History Walk and take a look at the new awnings on the old "Bank" building!
The Grand Rapids Area Community Foundation was established in 1994 by concerned business and community leaders to help local citizens contribute to the community to improve the quality of life in this area. The Foundation has been connecting donors' charitable intentions to community needs for over 25 years to make our Greater Itasca Area a better place to work and live. For more information, visit our website at www.gracf.org or schedule a visit by calling (218) 999-9100.