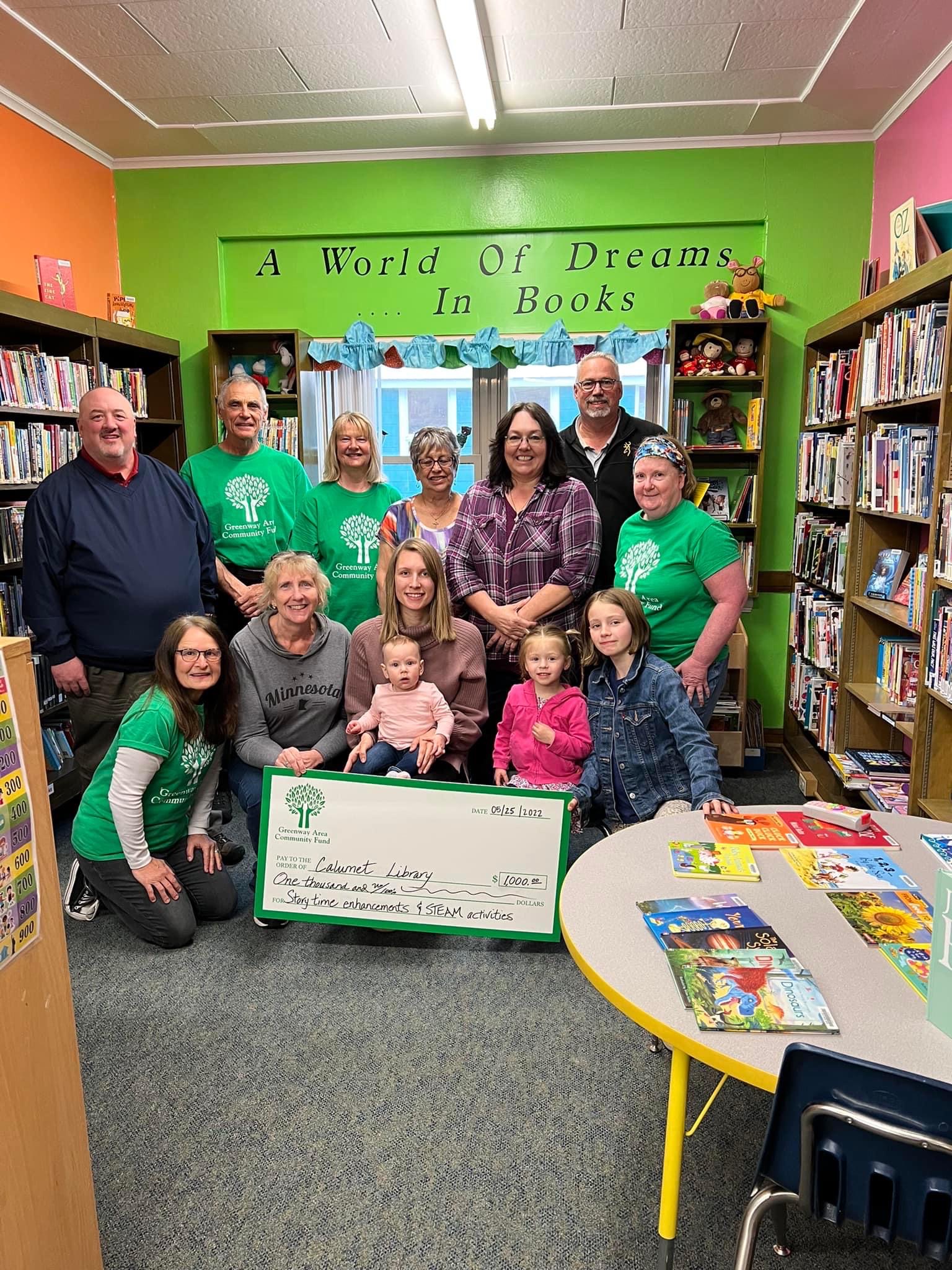 The Calumet Public Library is home to many books, of many genres, and a cozy little colorful nook for the kids who happily pass through (and sometimes have a hard time leaving).
Beyond the world of fiction and imagination, the passionate Ladies of the Library bring dreams and fun and exploration to life…for all ages!
From a pleasant conversation over a warm cup of coffee to an elegant tea party paired with tasty treats to a friendly match of pickle ball…you will see it all!
Greenway Area Community Fund Board Member, Lynda Tarbuck, who proudly represents Calumet, added geocaching and cribbage to the list of fun activities at the library. You will see her supporting and joining all that the library has to offer. The great staff and program events are matched with remarkable participation, from not only local residents, but many others who live in surrounding towns.
The Calumet Public Library is host to a wide variety of activities and events for the entire community to enjoy. Those who enjoy it the most? Well, the incredible people involved in the planning, organizing, and creating of the opportunities sure are likely; but it may just be the kiddos who have the most fun, as they are a top priority at the library. Lynda was sure to comment that the "most noteworthy" programming at the library is for children and Early Childhood Family Education (ECFE) events. She continued, "The library known as The Little Library That Could actually does it all. It's so welcoming and the hub for both children and families alike. The resources are well stocked and the additional support by the grant award enhances an already fantastic community center."
The Greenway Area Community Fund eagerly granted $1,000.00 to the Calumet Public Library this past spring, which is the grant to which Lynda is referring. The target goal of the monies granted included a children's rug to enhance story time and music classes, learning and development toys available to all who go to the library, and additional STEAM (science, technology, engineering, art, math) tools.
The implementation of these resources are a direct reflection and connection to the library's mission statement which is centered around bringing the community together, while stimulating imagination and curiosity. As a Board, we resonate with a mission as important as this one and wholeheartedly support the work being done to continue making it a reality at the Calumet Public Library.
If you'd like more information about the Greenway Area Community Fund or would like to make a donation, contact Casey Venema, Board Chair, at 218-259-2749 or mail a check (payable to GACF) to:  Greenway Area Community Fund, PO Box 966, Coleraine, MN 55722. Online donations can be made at https://www.greenwayareacommunityfund.com/give-today.