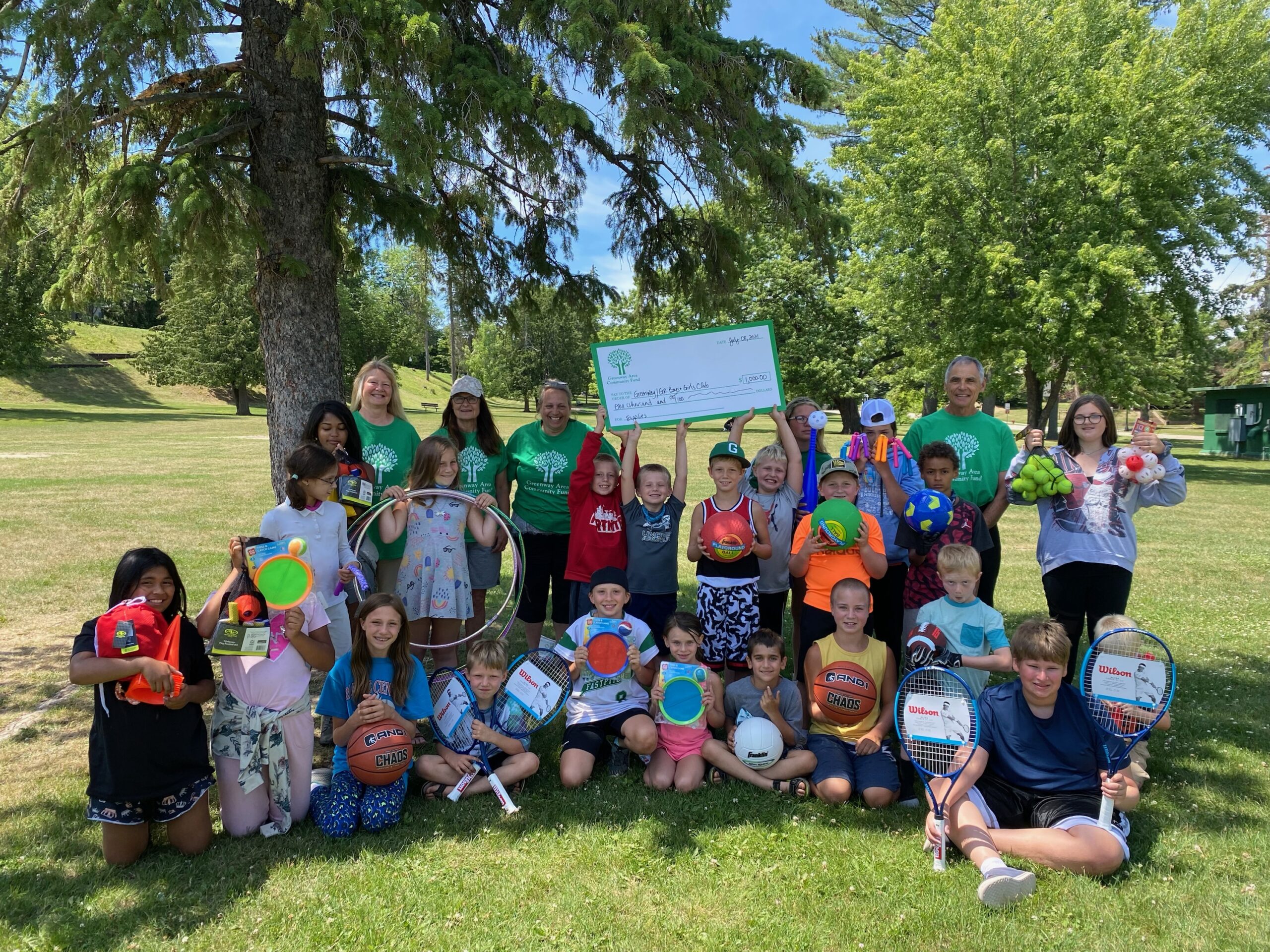 The Boys & Girls Club of Greenway recently received a $1,000 grant from The Greenway Area Community Fund (GACF). The funds allowed the organization to purchase outdoor activity equipment to be used by club members as well as in community outreach for local youth. The children in the photo are displaying some of the equipment that was purchased by the grant funds.
The Greenway site offers afterschool and summer programs for youth in kindergarten to 12th grade. They currently serve 137 families and 243 active members.
Lori Kangas-Olson, director of the Greenway club, explained, "Our Healthy Lifestyles summer program will provide recreational activities for a segment of the population who lacks opportunity. We partner with ISD #316 Summer Learning Academy where all youth are engaged in academic enrichment for a portion of the day. The site also welcomes those who participate in the Children's Mental Health REACH program."
Kim Venema, Lawrence Township Board Representative, added, "The Boys & Girls Club is a vital part of our community. They provide a valuable service to so many local families, and we are very happy to help support this organization by awarding this grant to them. "
For more information about the Greenway Area Community Fund or to make a donation, contact Venema at 218-259-2749 or mail a check (payable to GACF) to: Greenway Area Community Fund, PO Box 966, Coleraine, MN 55722. Online donations can be made at https://www.greenwayareacommunityfund.com/give-today.
PHOTO: Pictured are various participants in the Greenway Boys & Girls Club, front row, from left to right, Claudia Beier; Clara Holmstrom, Colten Venema, Kaleb Venema, Robbie Cogswell, Arlo Frevel, Mason Aronson, Xavier Hall, Madison Lucking, Jayda Hernandez, Taya Hall, and Chauntel Beier. Second row (standing), left to right, Ashlynn Ziegler, Levi Gilbert, Dalilah Craiglow, Teagan Craiglow, Steele Rogers, Bret Holmstrom, Bentley Apitz, Landon Fisher, and Asher Apitz. Members of the Greenway Area Community Fund Advisory Committee (wearing green shirts and standing in back), left to right, Jane Chamberlain, Trout Lake Township representative; Lynda Tarbuck, Calumet representative; Kim Venema, Lawrence Township representative; and Bob Lawson, Bovey representative.