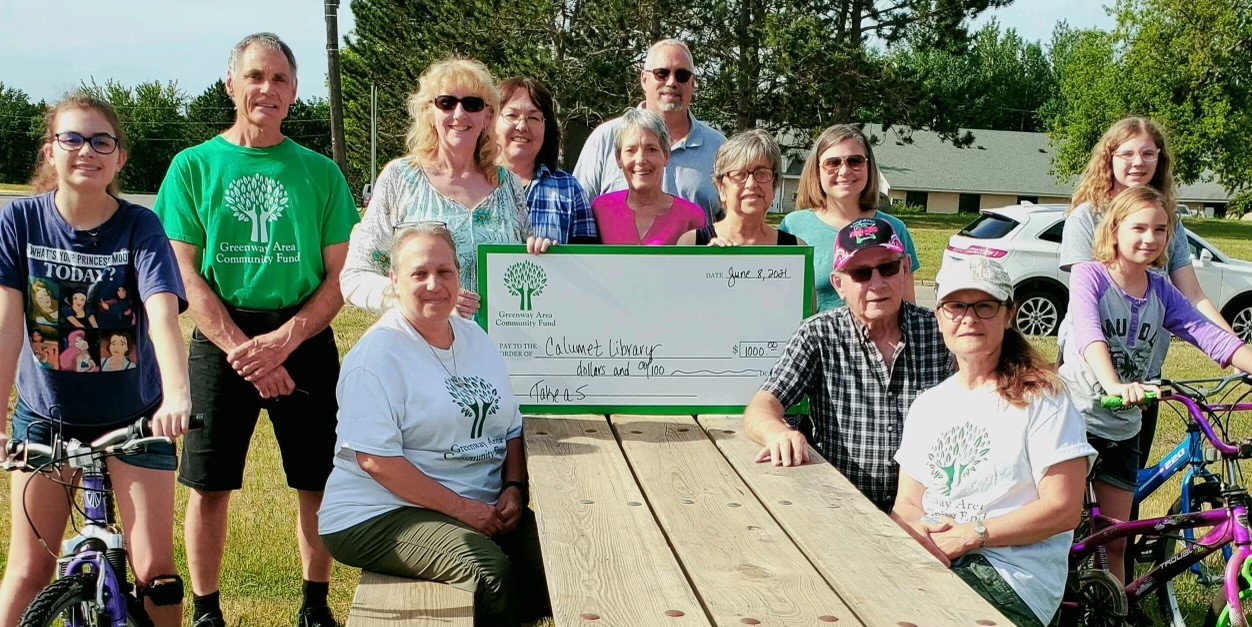 The Greenway Area Community Fund (GACF) Advisory Committee is pleased to award a $1,000 grant to the Calumet Public Library for their Take a Five and Read program.  The grant money will help purchase picnic tables as well as a "Little Free Library" for people to take and leave books for all ages.  This will be set up as a rest area near the Mesabi Bike Trail but would also be available for anyone walking around town or for those who are just passing through.
Advisory Board member Lynda Tarbuck stated, "We believe this will be a welcome project for the City of Calumet.  We hope both community members and visitors will use this space to relax or meet up with family and friends."
Casey Venema, Advisory Board Chair, added, "This is our second year of awarding grants, and we are very grateful for the businesses and individuals who have previously donated to our organization.  It's because of that support that we have been able to give out these grants and have a positive impact on the Greenway communities."
For more information about the Greenway Area Community Fund or to make a donation, contact Venema at 218-259-2749 or mail a check (payable to GACF) to:  Greenway Area Community Fund, PO Box 966, Coleraine, MN 55722.  Online donations can be made at https://www.greenwayareacommunityfund.com/give-today.
Pictured are Greenway Community Fund Advisory Committee members and Calumet Public Library employees and patrons.
PHOTO:  Front row, left to right, Abby Bouchie; Kim Venema, Lawrence Township Board Representative; Larry Pitts; Lynda Tarbuck, Calumet Board Representative; and Lauryn Bouchie.
Back row, left to right, Bob Lawson, Bovey Board Representative; Melanie Lefebvre, Calumet Librarian; April Serich; Wendy Chupurdia; Casey Venema, Lawrence Township Board Representative; Char Britney; April Bouchie; and Jocelyn Bouchie.