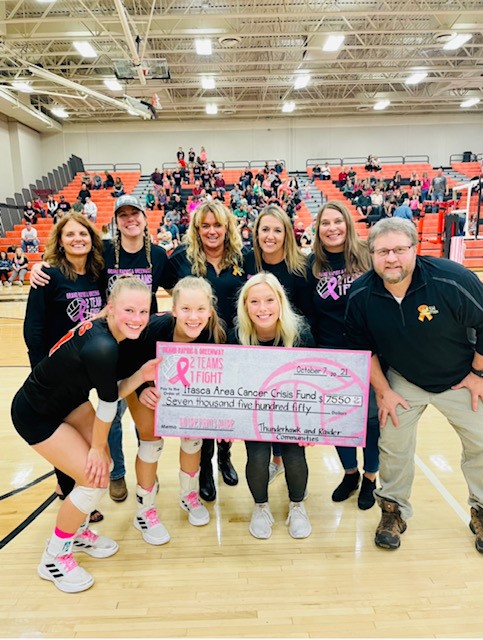 The Itasca Area Cancer Crisis Fund raised $10,000 during a Grand Rapids vs. Greenway High School Girls Volleyball game in October.  This is an annual fundraiser, and the two teams come together to raise money for the fund.  The volleyball game drew a big crowd.   "Kudos to the Grand Rapids and Greenway volleyball teams for an awesome event, and the support of the entire community to benefit those fighting cancer," said Sarah Anderson, who helps to volunteer with the fund.
Started in 2010, the Itasca Area Cancer Crisis Fund (IACCF) provides cancer crisis grants to families or individuals in the Itasca County Area.  IACCF was started in honor of Jackie Bischoff who lost her battle with cancer in 2010.  The fund helps people in the community by providing small crisis grants to support incidental costs incurred by individuals or families during cancer treatments.  Grants cover costs of traveling for those treatments such as fuel and hotel expenses.  IACCF has paid a total of $407,406.33 in grants to local individuals and families since its inception in 2010. It is much-needed help for those in our community affected by cancer.
If you or a family member is in need of cancer crisis funding, you can apply online through the Grand Rapids Area Community Foundation website, www.gracf.org.  Click on Itasca Area Cancer Crisis Fund on the Apply for a Grant page.  If you would like to donate to IACCF, you can drop off or send a check to Grand Rapids Area Community Foundation, 350 NW 1st Avenue, Suite E, Grand Rapids, MN 55744, or donate online at www.gracf.org, Donate Now, selecting Itasca Area Cancer Crisis Fund.
PHOTO: Grand Rapids High School students dressed in pink for cancer awareness.
PHOTO:  Left to Right, back row: Brenda Perreault, Jenny Lind, Tina Kane, Crystal Burggraf, Sarah Anderson, Jim Keenan; left to right, front row:  Kamryn Klinefelter, Eva Salmela, Lexi Lindgren.