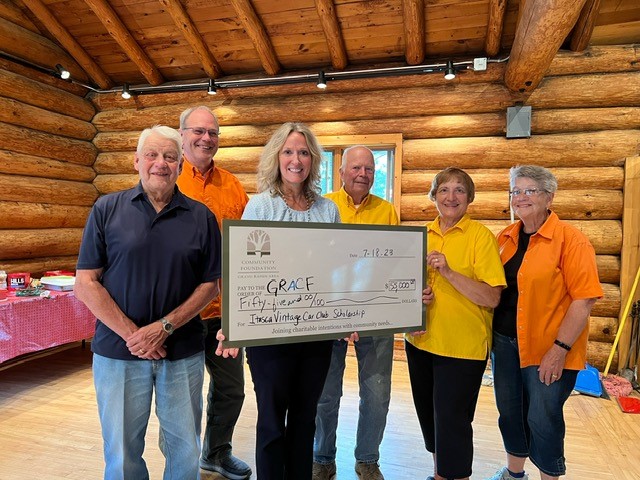 "1967 was a very good year. Detroit produced some excellent automobiles including the now sought-after muscle cars and sports cars, as well as powerful, stylish and smooth riding sedans, hardtops and convertibles.  But the older classics continued to be loved and preserved by many car enthusiasts," as stated by Art Bruns, Itasca Vintage Car Club historian.
On this annual car show/swap meet weekend here in Grand Rapids, the Itasca Vintage Car Club (IVCC) announces their yearly scholarship is now established and managed by the Grand Rapids Area Community foundation.
The Itasca Vintage Car Club was formed in that "very good year" of 1967 by a group of men who wanted to share their enthusiasm for older or classic cars with others.  The main mission of the club was to share their knowledge and experience in restoring and preserving the classic cars with each other, as well as exhibiting these cars in parades to the public.  Art Bruns also stated, "The dictionary definition of "vintage" includes the following as one of the meanings:  'Of exceptional quality or excellence, representative of the best. That describes how many local enthusiasts viewed their old cars.'"
By 1972, the club looked forward to having their first Northern Minnesota Swap Meet the last Sunday of July.  Over the years, this also evolved into a car show for others to share their vintage vehicles.  The swap meet/car show, which is taking place this weekend at the Itasca County Fairgrounds, was started and run by the Itasca Vintage Car Club for many years with IVCC members working countless hours each year through 2013 when they passed the event on to the Grand Rapids Area Chamber of Commerce to run.
The IVCC is still an active club in the area, and they hold monthly meetings, do "Crank-up" tours with Duluth Arrowhead Car Club, visit area senior living facilities for those seniors' enjoyment, and participate in area parades.
Education was always high on the Club's list for a way to continue their devotion to automobiles. They have awarded scholarships to area students pursuing an automotive career education for 30 years.  Now, in partnering with the Grand Rapids Area Community Foundation (GRACF), they hope to continue their legacy and inspire others to pursue careers in the automotive trades, by continuing to award two $1000 scholarships each year to students in the Greater Itasca Area.
If you would like to help area students pursue education in a much-needed automotive career, you can donate to the Itasca Vintage Car Club Scholarship at the Grand Rapids Area Community Foundation.  Donations can be made online at gracf.org or send/drop off a check to GRACF at 350 NW 1st Avenue, Suite E, Grand Rapids, Minnesota.