Ben Pederson is a dedicated employee to two employers. He's worked at MDI for over 15 years and at Grand Rapids Marine for over two years. Ben says that the people at Grand Rapids Marine are "like my second family." He enjoys both of his jobs and his employers enjoy and appreciate him. Mike Holmstrom, owner and General Manager of Grand Rapids Marine, states, "The relationship with MDI started when a previous customer was hired by MDI. He approached me with the idea since he thought it would be a good fit for us. It's turned out to be great! Ben has been an awesome addition to the team. He's always happy and makes us all laugh with his great sense of humor. It's a win-win for everyone and I hope the relationship lasts for a long time."
MDI has big goals and they work on them steadfastly. One of their goals is to positively impact 2,500 lives through employment and services by 2026. One example of what they do is offering a program called Career Skills which is an internal and external training program for people with and without disabilities to improve soft skills. They also provide job placement and onsite job coaching. In certain programs, an MDI employee who would like to try working outside of MDI will get help to gain the skills needed to find that outside job.
Other ways MDI impacts lives is through the Quest Transition Program (part of District 318 at MDI's Cohasset facility), Unified Work, the scholarship program, DPI Staffing, community job placement, and more. In 2020, MDI started an "Innovation Team," which consists of leaders both inside and outside MDI, who work together to help develop innovative ideas to generate more lives impacted.
In 2006, to support programs that help persons with disabilities, especially high school age youth, gain the necessary skills to attain their full potential at a job, MDI started their Success at Work Fund. It is intended to support persons with disabilities as they prepare for stable employment. They now give out ten scholarships each year. Recently, MDI donated $200,000 to this fund at the Grand Rapids Area Community Foundation. Think of how many lives that will impact!
Ben Pederson is just one life positively impacted by MDI, but his successes and MDI's successes will continue to positively impact the community into the future. If you are interested in learning more, you can go to MDI's website www.mdi.org. If you are interested in helping MDI impact more lives, please donate to their funds by going to www.gracf.org, and donating to the MDI Success at Work Endowment Fund, MDI Success at Work Nonendowed Fund or MDI Success at Work Scholarship Fund.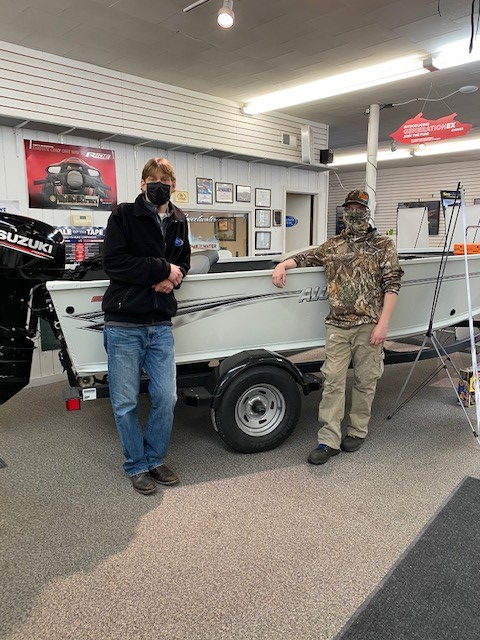 Mike Holmstrom and Ben Pederson