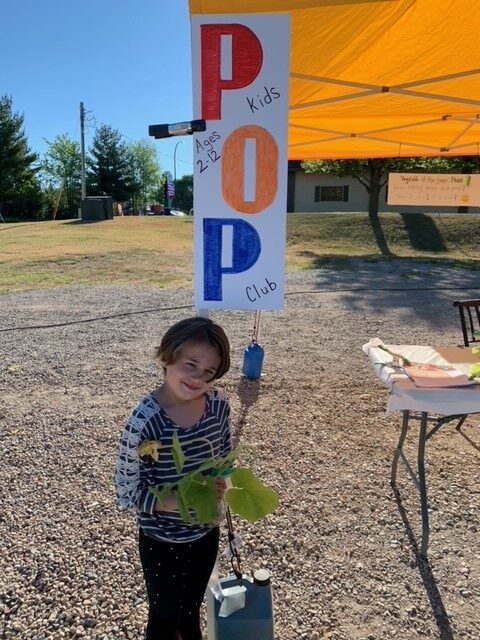 As we head into Spring (at least according to the calendar!) we'll soon be able to enjoy the many growers, producers, bakers and makers at the Grand Rapids Farmers' Market.
In addition to the wonderful locally grown food available at the Farmers' Market – everything must be sourced from within a 50-mile radius of Grand Rapids – there is a really exciting program for kids called the Power of Produce (PoP).
Each market day children ages 2-12 can receive a $2 voucher to purchase whatever fresh, seasonal produce they can source from the Market's many vendors. The point of the program is to promote healthy eating and education.
"It's good for kids to learn that, unlike the grocery, local food has a seasonal nature," explains former market president Jane Jewett. "Get those strawberries when you can, but if they're not available, maybe try something new… and learn to love it!"
During the 2021 season of the Farmers' Market, nearly 650 kids between the ages of 2-12 were registered for the Power of Produce program with 2,698 total PoP program visits. They spent over $5,000 of these $2 tokens at the Market, supporting local farmers and learning about local agriculture.
13% of the kids responded that the sole reason they came to the Farmers' Market was because of the POP club. For 20% of the kids in the POP program, it was their first time last year.
Even more importantly, 28% of the families of these children were using food assistance, for which the Market has some amazing matching programs that help low-income families stretch their food assistance to buy local.
Finally, 88% of these kids plan to attend the Market more frequently because of the POP Club. Talk about a great way to create a life-long love for local food and farming!
The Market also hosted fun children's activities like planting peas, painting with vegetables, and identifying herbs.
A quote from one mom says it all, "It was always a highlight to see how excited my child was to receive her PoP card on Saturday mornings at the market! She loved the freedom she had at picking veggies or fruits all on her own. What a great program to have for our littlest members of our community!"
The Grand Rapids Farmers' Market has a tentative opening date of Wednesday, May 11, weather permitting. The Power of Produce program will start on May 28th.
The Power of Produce fund is managed through the Grand Rapids Area Community Foundation, which has been connecting donors' charitable intentions to community needs for over 25 years to make our Greater Itasca Area – and the world – a better place to live.
You can learn more about the Power of Produce and the Grand Rapids Farmers' Market on the Grand Rapids Farmers' Market Facebook page. There are multiple area business organizations that sponsor this program – thank you to those organizations.  If you are interested in sponsoring PoP or volunteering, please send a message on the Market Facebook page, @GRFarmersMarketMN. You can also donate to the Power of Produce fund by going to the Grand Rapids Area Community Foundation website www.gracf.org, click on Donate Now and search for the PoP program.