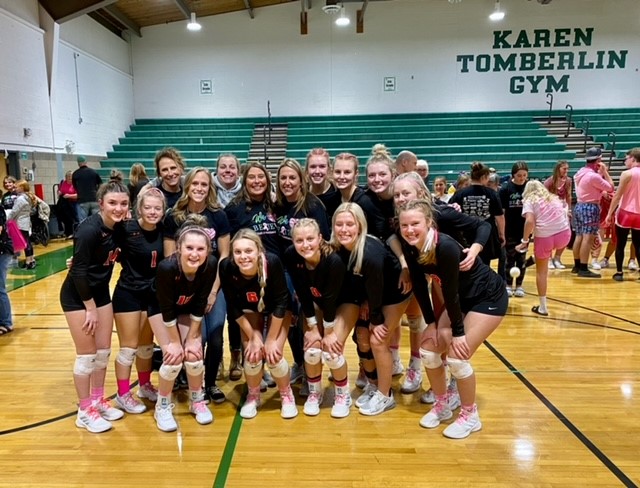 Once again, the Grand Rapids vs. Greenway High School Girls Volleyball teams helped to raise $7300 for the Itasca Area Cancer Crisis Fund (IACCF) during their annual game in October, which always draws a big crowd.   The IACCF was also the recipient of a Barr Engineering Co. charitable donation in the amount of $3800.  Barr has an employee-guided giving process, so the employees influence which organizations benefit from their donations.  "Kudos to the entire community for the continued support and encouragement for the important work we do for those fighting cancer," said Sarah Anderson, who volunteers for IACCF.
Started in 2010, the Itasca Area Cancer Crisis Fund (IACCF) provides cancer crisis grants to families or individuals in the Itasca County Area.  IACCF was started in honor of Jackie Bischoff who lost her battle with cancer in 2010.  The fund helps people in the community by providing small crisis grants to support incidental costs incurred by individuals or families during cancer treatments.  Grants cover costs of traveling for those treatments, such as fuel and hotel expenses.  IACCF has paid out over $400,000 in grants to local individuals and families since its inception in 2010. It is much-needed help for those in our community affected by cancer. Please consider the IACCF in your year-end giving.
If you, or a family member, need cancer crisis funding, you can apply online through the Grand Rapids Area Community Foundation website, www.gracf.org.  Click on Itasca Area Cancer Crisis Fund on the Apply for a Grant page.  If you would like to donate to IACCF, you can drop off or send a check to Grand Rapids Area Community Foundation, 350 NW 1st Avenue, Suite E, Grand Rapids, MN 55744, or donate online at www.gracf.org, Donate Now, and select Itasca Area Cancer Crisis Fund.