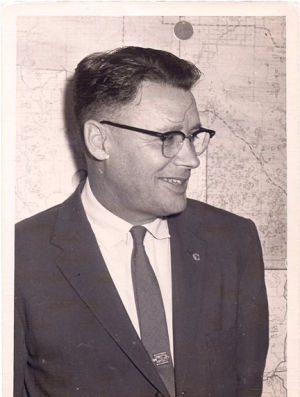 On October 5, 1966, a 15-year-old student, David Black, approached the Grand Rapids Middle School with a loaded .22 caliber pistol. He shot and seriously wounded one of his intended targets, 14-year-old Kevin Roth, a fellow student who Black felt had teased him. Forrest L. Willey, the Director of Secondary Education at the Grand Rapids Middle School, heard there was a student with a gun on campus and did not hesitate to go directly to the scene. He approached David and asked him for the gun. David shot at Mr. Willey and missed with the first bullet, but continued to shoot at him causing Willey to collapse. Black then fired a couple shots at the police before fleeing the property. Mr. Willey died eight days later. He risked his own life to prevent serious injury and possible death to the young people in his district.
Willey was given a posthumous award by the Carnegie Hero Fund, based in Pittsburg, Pennsylvania, and is listed on the Memorial to Fallen Educators on the campus of Emporia State University in Emporia, Kansas. In October 2013, a memorial bench was installed outside of the Robert J. Elkington Middle School in Mr. Willey's honor. The money for the bench was raised by local Itasca area resident, Rachel Bledsoe, who is dedicated to raising awareness of the ongoing problem of bullying.
In the fall of 2016, on the 50th anniversary of this incident, the Grand Rapids High School Class of 1966 established a scholarship in Mr. Willey's honor, the Forrest Willey Memorial Scholarship, at the Grand Rapids Area Community Foundation. Forrest Willey's son, Bob, was a 1966 classmate, and they wanted to do something to honor Forrest Willey.
Each year, the Forrest Willey Memorial Scholarship fund provides two scholarships; one for a Grand Rapids High School graduate and one for a Northern Lights Community School graduate. They are hoping to build up this fund enough to create an endowment so that these scholarships can be given out every year for the foreseeable future.
"It is hard to know how much suffering Forrest Wiley prevented by leaving the safety of his office that day. Had he not intervened we don't know how many students might have lost their lives. One thing we do know, Mr. Willey intentionally placed himself between the shooter and the intended target. That should make him a hero in anyone's estimation. By funding this scholarship we all have a hand in accomplishing Mr. Willey's goal of helping students, something he gave his life for," says Rick Blake, Class of 1966.
If you are interested in helping local students and donating to the Forrest Willey Memorial Scholarship, you can donate online at the Foundation's website www.gracf.org, click on Donate and select Forrest Willey Memorial Scholarship Fund. You can also send or drop off donations to the Grand Rapids Area Community Foundation at 350 NW 1st Avenue, Suite E, Grand Rapids, MN 55744.