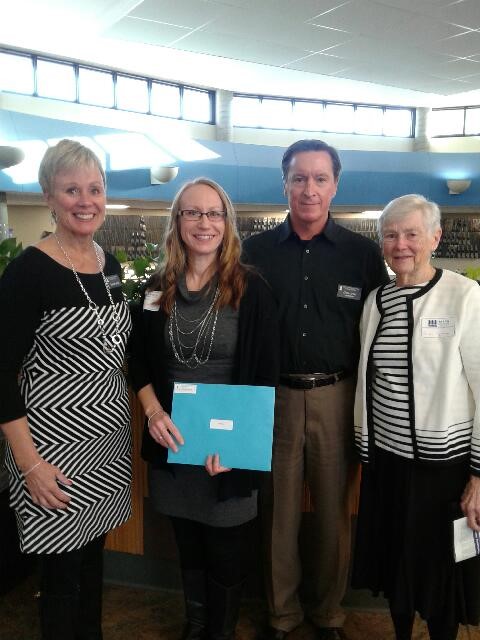 Amy Glass is an RN at Kiesler Wellness Center working for Northland Counseling Center. Advocating for people and helping them make choices that benefit holistic health is exactly what she hoped she would be doing someday as a nurse. Admittedly, Amy is a person who thrives on setting and obtaining goals and is determined to find ways to meet them, but she didn't know what she wanted to do with her life for many years. There were obstacles and barriers to overcome to find the right path. She started and stopped her education after high school several times; she worked and had a husband and a family along the way. But one day in 2016 it came to her – she wanted to be a nurse, ultimately an RN, to help people; to serve people in a different way.
Amy set out to determine how she could become an RN. How could she accomplish this while being a wife, mother and continue to work? She received affirmation from family and friends who encouraged her to go for it, but pursuing higher education takes time and money and she didn't know if she had enough of either of these things without accumulating a pile of debt.
Through investigation, she found she could pursue her goal of becoming a Registered Nurse while staying in the Grand Rapids area. Itasca Community College (ICC) offered all of the prerequisite classes, which would take a year, and acceptance into the two semester Itasca Practical Nursing Program would finish the first two pieces needed. Once that was completed, a summer bridge program through Hibbing Community College (HCC), delivered in Grand Rapids, would begin the additional two semesters of associate degree nursing to be eligible to take the boards for Registered Nurse.  The whole process would take three years, if applications were accepted, and a high level of commitment to thrive in nursing school. There would be many expenses, without the ability to work as much, and her free time would be limited because of classes and studying.
Amy, along with husband, Kris, decided it would be worth it to proceed. She took out loans to pay for her first semester at ICC and went back to college in the Fall of 2016 at 36 years old. During that semester, passing a Certified Nursing Assistant (CNA) class provided the ability to work as a NAR (Nursing Assistant Registered) at Grand Village. Shortly after beginning work there, she applied for their scholarship program and received an amount that paid for spring semester tuition. The following year, Amy had to move away for her husband's work, but in about 6 months was back in Grand Rapids and applied to ICC for the Practical Nursing program. She applied for scholarships through the Grand Rapids Area Community Foundation and Itasca Community College Foundation and, through these scholarships, got her whole year of Practical Nursing schooling paid. She passed her Practical Nursing classes with honors, passed boards, and entered the HCC Associate Degree Bridge Program held at ICC in the summer of 2019. That summer was also the beginning of her work as a nurse at Northland Recovery Center as an LPN. The Bridge Program tuition was paid for with a scholarship received through Northeastern Minnesota Office of Job Training which offers Classroom Training Fund Scholarships for youth and adults. Amy passed the Bridge Program and was able to enter the HCC program in Fall 2019. 100% of that year's schooling and living expenses were paid for through scholarships from the Grand Rapids Area Community Foundation, Hibbing Community Foundation, Blandin Foundation and Arrowhead Economic Opportunity Agency (AEOA). She worked at Northland Counseling while attending HCC and loved having the ability to work as an LPN while studying to be an RN.
The COVID-19 pandemic hit in the spring of 2020, 2 months before graduation. Although made more difficult, Amy completed her clinicals and graduated. During this time, she also found out that her employer, Northland Counseling, was hiring an RN and Amy couldn't have been more excited. She had grown to love her job and wanted to continue working there. Northland Counseling Center hired her in May of 2020 upon graduation and passing of the NCLEX, the national boards test. Finding a spot at a testing center was hard to do during the pandemic, but she searched for one as quickly as possible, passed the test, and started her job as an Integration Specialist for Northland Counseling.
Amy Glass was able to have a family, work and attend school locally by making school a priority, working hard, and depending upon others. During her time at ICC she was awarded the ICC Student of the Year award for excellence inside and outside the classroom. She was able to have 50% of pre-requisites, 100% of her Practical Nursing tuition and 100% of her Associate Degree in Nursing, as well as living expenses, paid through scholarships. Because of these scholarships, she felt a sense of obligation to the community to do well. She wanted to prove she was worth the investment…and she did.
Amy states, "I keep thinking about all of the people caught in intersections in their life pathways right now and I've told more than a few to think about going back to school. For those who are unemployed or working jobs that they don't love, it can be a turning point. They can decide to invest in their future and community through higher education. Our lowest points can end up being the beginning of the highlights of life!" She feels that support from her husband, family, wonderful ICC counselors, friends, mentors such as Lynette How at ICC, and the organizations that offered her scholarships all helped her be successful. Amy believes this was all part of the path she was meant to walk. She can give back to the community through her employment and now a goal is to become a donor to scholarship funds that will help others. "It's the legacy…these scholarships work."