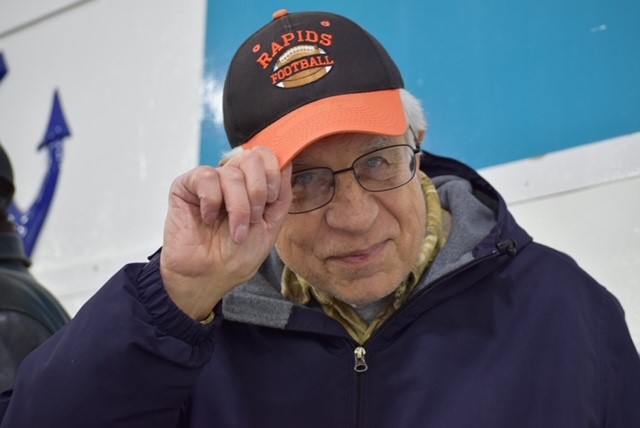 For years, local former student athletes have wanted to find a way to honor Tom (Mr. D) Drazenovich, a beloved Grand Rapids High School (GRHS) Football Coach.  That came to fruition last fall when a committee was formed with some former athletes, district employees and community members to discuss naming the GRHS practice field.  Many fantastic local coaches were put on the list to consider, but the committee ultimately decided to name the practice field after Coach Tom Drazenovich.  The school board approved the naming of the field and the committee then went about raising money for a sign for the field.  The money was raised in no time, as people jumped in to donate to this project.  The funds were held at the Grand Rapids Area Community Foundation and, by May of this year, the Tom "Mr. D" Drazenovich Field sign will be erected at the GRHS practice field.
Greg Spahn, current Head GRHS Football Coach and GRHS Social Studies teacher says, "Honoring Coach D with his name on the field where he instilled life lessons for so many has become a reality. Coach D's legendary teaching and coaching career is rooted in his legacy of love; love of faith, family, and love for all those he served. This process will honor the impact and legacy that he and his family had, and continues to have, on our great Grand Rapids community. We are all lucky to continue to experience his light. I am honored to lead our young men on to Coach D field from this day forward."
"Coach D has impacted hundreds of students during his career as a teacher and a coach for GRHS. Many of his former student athletes are coaches today because of his positive and loving influence on them. Coach D is one of the greatest people that I have been fortunate to get to know in my time at GRHS. Naming the practice field after him is an honor not only for him and his family, but for the entire community and for all the student lives he has positively touched. Thank you, Coach D, for being such an amazing person to all of us!" said Anne Campbell, GRHS Activity Director.
The Grand Rapids Area Community Foundation is proud to be a part of the Tom Drazenovich Field Sign project and is another example of how the Grand Rapids Area Community Foundation has been connecting donors' charitable intentions to community needs for over 25 years. For more information, visit our website at www.gracf.org or schedule a visit by calling (218) 999-9100.